Jim Bates, DDS, MD, FACS

Oral and Maxillofacial Surgery
Selected among D Magazine's "Best Dentists" for 2021
We are very humbled and proud that Dr. Jim Bates has been named by his peers among the area's BEST DENTISTS in D Magazine for 2021. Here's what they had to say: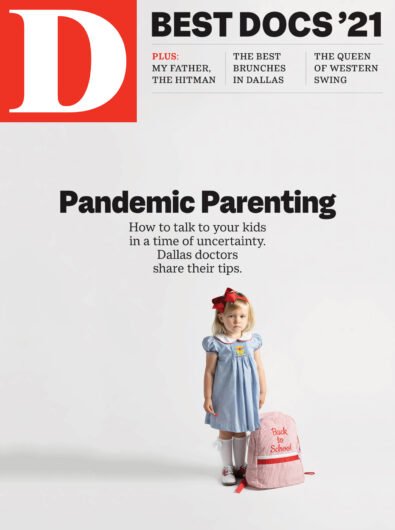 "Dr. Jim Bates, a lifelong Texan, was born and raised in Lubbock, where he attended Texas Tech University as an undergraduate and later graduated with multiple honors from both the University of Texas Dental Branch in Houston and Texas Tech University School of Medicine. Dr. Bates completed an accredited residency in oral and maxillofacial surgery at The University of Texas Health Science Center at Houston."
"In 1995, Dr. Bates founded Texas Oral and Maxillofacial Surgery, the first health care practice in Dallas to have achieved accreditation as an office-based surgery facility by The Joint Commission, the same organization that accredits hospitals. This year, the practice celebrates 15 years of continuous accreditation. The state-of-the-art facility includes full facial and intraoral 3-D digital imaging, fully equipped hospital grade surgical and recovery facilities, and a multidisciplinary conference center."
"Certified as a Diplomate of the American Board of Oral and Maxillofacial Surgery, Dr. Bates is also a Fellow of the International Team for Implantology (ITI). He holds both medical and dental licenses and has published clinical research on orthognathic surgery. He has been invited to lecture nationally and internationally to groups of physicians and dentists on contemporary topics in his specialty. Dr. Bates maintains medical staff privileges at multiple Dallas hospitals."
"Along with a highly skilled team of professionals, Dr. Bates provides full-scope oral and maxillofacial surgery services, including bone and soft tissue grafts, guided bone regeneration, dental implant reconstruction, distraction osteogenesis, maxillofacial trauma, facial aesthetic surgery including chin and cheek augmentation, TMJ arthroscopy and arthro- plasty, surgical management of obstructive sleep apnea, and orthognathic surgery for reconstruction of developmental and acquired skeletal jaw deformities—the primary focus of the practice. Working closely with other medical and dental specialists as part of a multidisciplinary team of caregivers, Dr. Bates is able to achieve optimal functional and aesthetic outcomes for his patients by providing the highest quality care in a safe and comfortable outpatient environment at a fraction of the cost of a conventional hospital stay."